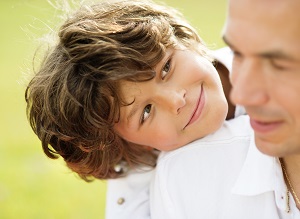 Divorce can often be a difficult decision when only two people are involved. If children are involved, things can be far more difficult in just about every way. It doesn't have to be that way, though.
A recent report from a Salt Lake City ABC News affiliate offered advice for helping children cope with divorce. We'll share those tips along with a few of our own in this issue.
If you're thinking of divorce, it's definitely in your best interest to secure legal help from a qualified and experienced San Diego divorce attorney. Here at the Men's Legal Center, our reputation is one of helping Californians successfully navigate their way to their post-divorce lives.
You can receive a free phone consultation and make your appointment by calling 619-234-3838 or via email.
How to Help Your Child Cope With Divorce

It's not unusual for emotion to play a major role during the divorce process. When emotions and stress get the better of us, it can be easy to say things that end up hurting our children.
Here are a few tips for keeping things in check.
Only share what is age appropriate.
It's not unusual for children of divorce to feel at fault for their parents' divorce. Your discussion with your children – which should be in line with your child's age and temperament – should revolve around the message that the divorce is between mom and dad alone.
Do not fight in front of your children.
As we wrote in a previous entry, high levels of conflict can greatly impact your children. In fact, a study has shown that children exposed to high levels of contact are more likely to get divorced themselves later in life.
Support the other parent.
Your relationship with your spouse or partner may be coming to an end, but the relationship both of you enjoy with your children will continue. Working together for the betterment of your children is a "win" for all involved.
Legitimize your child's feelings.
It's vital that your child not keep their emotions bottled up. Instead, offer encouragement by saying things like, "I know you feel sad" are perfectly fine, and lets your child know their feelings are valid.
Offer support for working through your child's emotions.
Ask your child "What would help you feel better?" and feel free to offer a few ideas of your own. Whether it's calling the other parent or simply holding their favorite stuffed animal, you may be surprised at how seemingly simple things can make a world of difference.
If you're considering divorce in San Diego, call the Men's Legal Center.

Family is everything, and we're big proponents for doing all you can to protect your children from the negativity of divorce.
If you're considering divorce, we urge you to secure legal representation so that you're fully protected in your post-divorce life.
You can receive a free phone consultation and make your appointment by calling 619-234-3838 or via email.