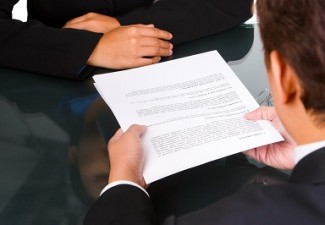 After you've filed for divorce, the next step – mandated by law – is to make sure your spouse is aware of your intentions. It's known as the process of "being served." How you do it, though, can set the tone for how the rest of your divorce process plays out.
In this article, we'll share stories of divorce papers being served in embarrassing places – and the trouble that approach often brings – as well as the legal requirements that must be met in the serving of divorce papers.
LEGAL REQUIREMENTS OF SERVING DIVORCE PAPERS
If you're filing for divorce, it is your responsibility to make sure your spouse is properly served. The papers must be given to directly to your spouse, and should be served by a "disinterested person" who is not a party in the case and will not be affected in any way by its outcome.
If you choose to mail the divorce papers to your spouse, you will be required to send them via certified mail, meaning that the U.S. Postal Service will provide you with a slip as proof of the letter being mailed and a return receipt proving that your spouse received the package.
INFORMATION CONTAINED IN DIVORCE NOTICE PAPERS
In most states, divorce papers contain the following information:
Identity and addresses of both spouses
Marriage information, including date and time
Names and birthdays of children produced during the marriage
Reasons for divorce
Outline of how the petitioner (the person filing for divorce) would prefer to settle issues such as division of assets, child custody, visitation, etc.
STAY TO THE HIGH ROAD
As tempting as it may be, nothing can be gained by having your spouse served at their place of work or in public. The only time you should consider doing this is when your spouse is nowhere else to be found. If your spouse has you served at work or in public – as obnoxious as it may be – you'll do well to keep your calm.
Well-known instances of less-than-ideal places to be served include:
Frank Sinatra serving Mia Farrow with divorce papers on the set of the movie "Rosemary's Baby." The entire cast and crew were there to witness Farrow fall to her knees sobbing.
Danielle Staub of "Real Housewives of New Jersey" fame was served while she walked the red carpet for a Halloween movie screening.
Baseball great Satchel Paige received his divorce papers as he stepped onto Wrigley Field for a game.
MEN'S LEGAL IS HERE TO HELP YOU
Because the serving of divorce papers is a required part of the process, there's no getting around it. Emotions are usually running high during divorces, so it really is in your best interest to handle the serving of papers component as dignified as possible.
If you're thinking of filing for divorce or have already been served with papers, we'd welcome the opportunity to speak with you about your options. Contact the Men's Legal Center in San Diego today at (619) 234-3838.