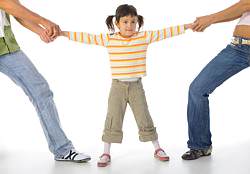 For many years, husbands and fathers have hesitated to get into a divorce or to even fight for their legal rights after a divorce has been filed because they assumed the worst – that their wives would keep the marital home, get at least half of the estate and collect child and perhaps spousal support.  In short, men have been avoiding getting into this process because of perceived biases against them.  However, a recent statistical survey that was released should provide some reason to think about these notions.
Specifically, the national KIDS COUNT program, which tracks several different types of data as they relate to children, has released a survey that relates to the percentage of homes in each state that are headed by females that receive child support.  California tied for the lowest percentage in the United States with New York at 23 percent.  The highest state in the country is Washington, with 47 percent of female-headed households receiving child support.  The national average sits at 31 percent of households that fall into this category.
Clearly, this survey should indicate that in California when divorces arise and there are children of those marriages, judges will not simply award child custody, the family home and child support to the mother automatically.  Fathers seem to get a fair shake here based on the laws and standards that are in place and the adherence to them by many family court judges.
San Diego Child Support Lawyers
However, this survey should also not lead anyone to assume that they will simply have to show up in court to obtain a favorable result.  Men facing a divorce need to take immediate steps to make sure that their legal rights are protected and enforced, and they need to do so with the help of experienced professionals who understand what it takes to fight for a positive outcome.
If you are a husband and/or a father who is facing a legal issue, you need to seek the help of San Diego child support lawyers who have been standing up for the rights of men for many years.  Contact the Men's Legal Center today to schedule an initial consultation.