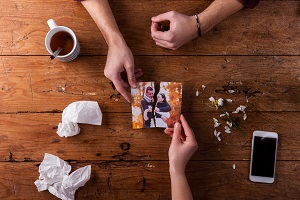 Burbank native and former NFL quarterback Erik Kramer is seeking an annulment of his marriage due to mental issues. Does he have a case?
In this issue, the San Diego divorce attorneys with the Men's Legal Center will share the details about annulment, including what it is, how it differs from a divorce, and the necessary conditions to satisfy California law.
Erik Kramer's Case at a Glance
Kramer, a veteran QB for the Atlanta Falcons and the Detroit Lions, was married his wife in 2017. He now says that he was suffering from depression at the time because of head injuries from his years in the NFL, and that the marriage should not have taken place because he lacked the mental capacity to make decisions.
Further, he is accusing his wife of stealing $50,000 before they were married.
As things stand now, Kramer's wife has filed for divorce. In addition to dividing income earned in their barely-over-a-year-long marriage, she is seeking spousal support. Kramer, however, wants the marriage annulled.
What's the difference between a divorce and an annulment?
They are both legal processes, so it's definitely in your best interest to have legal representation from a San Diego divorce attorney to guide you through the process. While divorce marks the end of a marriage, an annulment means that the marriage was fraudulent and essentially did not exists.
What are the qualifications for an annulment?
It's ultimately up to a California judge as to whether or not someone will be granted an annulment. Again, that's why you need legal representation to proceed with such a request.
Justifiable reasons for granting an annulment include:
One of the spouses being of unsound mind and unable to understand the nature of marriage and its obligations (the line of action Kramer is pursuing)
Both spouses are blood relatives
One spouse was coerced by force to enter the marriage
Either spouse is already in another marriage that has not ended
Unlike divorces, there are a statute of limitations involved for annulments in California. In most instances, the filing for an annulment must take place within four (4) years of the marriage.
If you're a man seeking divorce or annulment in California, call the San Diego men's divorce lawyers with the Men's Legal Center.
We'll keep you posted on the process of Erik Kramer's request for an annulment. In the meantime, if you'd like more information on having your marriage annulled or are considering divorce, get in touch with the men's divorce attorneys at the Men's Legal Center in San Diego.
Our number is (619) 234-3838, or you can reach us via email.