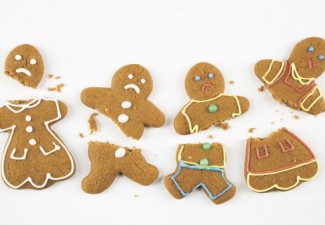 While divorce may come as a relief to some, to others there is a terrible sense of loss, not just of the spouse but also of extended family and friends.  Depending on how amicable the divorce is, there may be people with whom you can no longer be friendly or spend time with at the holidays, and the loss of these family members or friends can be devastating.
In some cases, there is little you can do about how things work after the divorce, but in other cases, you have control over how well the process goes.  Here are some tips for handling holidays, family and friends both during the divorce and after it is final:
Be slow to anger and to speak. It is normal to become irritated or even angry at your former spouse's behavior during a divorce.  After all, if you two were getting along well, it is unlikely you would be divorcing!  However, what you say now could have ramifications for many years to come.  Be sure to speak nicely about your ex, particularly to mutual friends.  If you cannot say anything nice, just decline to speak at all.  You will probably never regret things that you did not say, but you may well regret rash words spoken in the heat of the moment.
Be flexible. It is possible that your former spouse would be willing to share time with friends and family if you were flexible in your approach.  Offer to bring the kids to visit with their family if the other parent is unable to do so.  Let them know that you are open to attending the same parties.  Make it clear that you are not going to be vindictive and you may be surprised at how receptive your ex will be.
Keep in touch. Many people simply do not know what to do after someone divorces.  They may be afraid to approach you, so try approaching others instead.  Make it clear that you want to remain friends and that you will not put anyone in an awkward position with your statements about your former spouse.
While you may be divorcing, it does not have to be the end of your relationships with friends and family.  One way to make your divorce more amicable is to have a good agreement with your former spouse.  The attorneys at Men's Legal Center in San Diego can help.  Call us today.