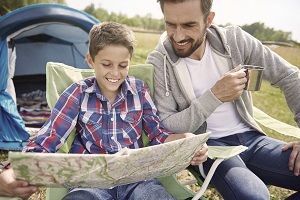 One of the most adventuresome – and affordable – ways to cement the bond between a dad and his children is camping. With the amazing San Diego weather and access to a wide diversity of terrain, there are plenty of easy-to-get-to camping destinations for you and your children.
In this issue, we'll provide the basics of what you'll need for a classic getaway for some serious father-children bonding time and share resources for finding that perfect camping spot.
Is camping really good for you?
For a number of reasons, camping is certainly good for you and your children. For starters, it teaches all campers about problem-solving you deal with challenges not seen every day, like where and how to pitch your tent, what to do when it's raining and learning how to enjoy yourself in a technology-free zone.
Additionally, your child will:
learn basic survival skills;
observe how animals act in their natural habitat; and
enjoy fresh air and vitamin D from the sun, which will in turn lead to reduced stress.
What kind of gear do I need for camping?

Think of this list as a one-time investment as most of it will be used for years to come. A basic starter camping kit includes:
dome tent;
tent stakes;
air mattress with battery-powered pump;
bug spray;
hand sanitizer;
sleeping bags;
water bottles;
camp stove with propane tanks;
camp chairs;
5-gallon water jug;
headlamps and flashlights;
cooler with ice;
cooking utensils and can opener;
paper plates, cups, bowls and utensils;
baby wipes and anti-bacterial wipes; and
trash bags.
However, if you're just wanting to try it out there are locations that will allow you to rent all the equipment needed.
How do I find the perfect camping spot?
There's plenty of good camping locations in San Diego, but the key is to find a space that's been designated as a camping spot. If you want to stay away from a campground in state parks, however, pick a location that's bare of vegetation, level, away from a trail and at least 100 feet from a water source.
For expert service and advice from a men's divorce lawyer in San Diego, call The Men's Legal Center.
If you're a man facing divorce, get in touch with us here at The Men's Legal Center. We're committed to making sure you have the resources you need as you begin this new chapter in your life.
You can reach us by phone at 619-234-338 or via email.