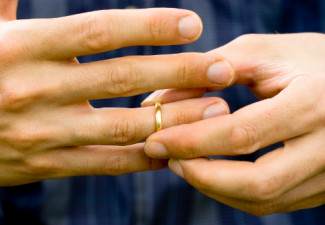 One of the most difficult times in your divorce may be the day when you learn your former spouse has moved on to a new relationship. The new man may be someone your former wife met after your divorce, or he may have been involved with her before your marriage ended. Either way, it is unlikely that you will feel particularly friendly with this man unless he comes into the picture many years after your breakup. Even then, it may be difficult to deal with your former spouse moving on with a new life and a new relationship, especially if your children are involved in the new family dynamic.
While a family law attorney may be able to help you with the mechanics of divorce, it is up to you to deal constructively with the issues surrounding your future. The San Diego family law attorneys at the Men's Legal Center want to provide you with the tools to deal positively with the changes that are going on in your life, including acceptance of your former wife's new relationship.
Here are a few tips for handling "the other man" successfully:
Never engage your ex's new partner in an argument. This may be tough, especially if you believe or know that he was involved with your wife prior to your divorce. However, you have nothing to gain and quite a bit to lose by picking a fight. If the other man tries to get involved in your communication with your wife about legitimate business, such as visitation or child support, firmly but politely tell her that you must deal with her directly. If the problem continues, contact your attorney for help.
Do not allow your former spouse to play the two of you against each other. Sometimes it is not the other man but the former spouse who stirs up trouble. If this is the case, politely inform your ex that you will not be drawn into an argument and remove yourself from the situation. If the problem persists, consult your attorney.
Keep your children out of it. Never talk to your children about their mother's behavior, even if they bring it up. Simply tell them that those conversations are kept between the adults and divert the subject. Bringing the children into such a discussion will always hurt them and never help you.
If you are struggling with divorce issues, talk to the San Diego family lawyers at Men's Legal Center. These family law attorneys in San Diego are ready to help you with every aspect of your divorce.