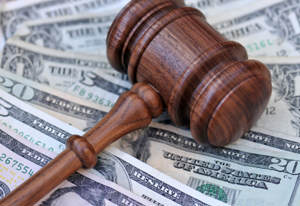 According to a recent survey by CNNMoney, the average divorce costs nearly as much as the average wedding.
The survey found that the average wedding costs nearly $30,000, while Huffington Post states the average divorce runs between $15,000 to $20,000. While these are average numbers, they still show that the costs of divorce can be very high. If you are considering divorce, there are several ways to curb the costs while still standing up for your rights.
The Cost Factors In Divorce
There is no question that divorce is a costly endeavor, both in financial costs and emotional ones. In fact, the emotional costs may be higher than monetary ones. According to experts, many couples go into a divorce seeking revenge with the divorce attorney as champion. When a lawyer is filing page after page to "prove" what the other spouse did wrong, couples will quickly deplete their savings, children's college fund and other money.
Ideally, divorce should be about the future rather than the past. A divorce proceeding is designed to help you recover the financial assets you need to move on with your life and plan for the future, not punish your spouse. If you need help dealing with the emotional aspects of your divorce, a counselor or psychologist is a much better, and cheaper, choice than using a divorce lawyer as a weapon to gain revenge on your former spouse.
You can also help yourself by knowing the legal process. Know and understand the factors that will affect your future. The more you know about the legal process, the more intelligently you can attain what you need from professionals, like your financial advisor or lawyer, without wasting time and money. Be efficient when dealing with these professionals. Keep your documents organized and maintain a running list of questions. Ask these questions at a single sitting, rather than calling your lawyer multiple times. This can result in more charges and a higher legal bill. Also, be sure to give your lawyer the information he or she needs quickly. Delays cost money.
Property division can be one of the most complicated aspect of any divorce, no matter the size of the marital estate. If you are facing divorce and are concerned that your interests are not being met with your property division agreement, consider the legal services of the Men's Legal Center. The Men's Legal Center offers the services of California divorce attorneys who have extensive experience in property division and custody issues. Seek the legal advice of the Men's Legal Center to secure your rights and future post-divorce.