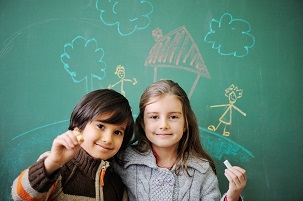 We've talked before about the emotional toll divorce often takes on families. A recent article in the New York Post, however, recently profiled several former spouses who have taken their post-divorce co-parenting duties to the next level.
In this article, we'll share excerpts from the article.
Suzanne and Tim Live Together – Sort Of
Even though they're divorced, Suzanne lives in an apartment attached to the home she and Tim bought when they were married. The former couples' two children – ages 10 and 12 – live in the house with Reynolds and his new partner. All three adults pitch in to share the parental duties.
From Being Married to Being Like Brother and Sister
Tore says that after he and his first partner separated because of problems with intimacy, their relationship changed from that of a married couple to more like that of a brother and sister relationship.
While they continued to live together for four years after their divorce for the sake of their children, he moved out when she began dating other men. To this day, they still celebrate holidays and birthdays with their children.
Vacationing Together?
Lisa, a 51-year-old writer, shared the news that she and her ex-husband work together for the betterment of their 13-year-old daughter. Her ex comes to the house each morning to help their daughter get ready for school, and the former husband and wife even go on vacations together with their daughter and other families.
Is This a Trend?
The author of the New York Post article pointed to a "growing trend" of former couples who say that they don't want their divorce to be about animosity but rather about the love they share for their children.
Quoted in the article is a co-founder of a divorce support group in New York who said," This generation has heard and learned first-hand how (hard) divorce can be if the parent does not strive to co-parent civilly. They can do it the way they want to, not the way their parents did it."
If You're a Father Facing Divorce, Call The Men's Legal Center
Remember, even though your marriage is ending, your responsibilities as a father have not. Let your children know how important they are to you. While they may not always tell you, deep inside, you mean a great deal to your child.
If you're a father facing divorce, we urge you to get in touch with us here at The Men's Legal Center. Our sole purpose is to make sure men have the resources and knowledge they need for the best possible outcome in family court.
You can reach us at 619-234-3838 or via email.