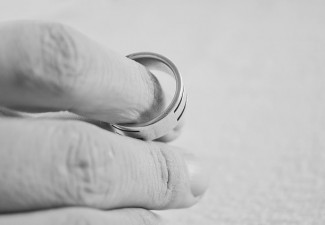 Being blindsided by divorce is no urban myth; it really does happen. If it can happen to Tom Cruise, Hulk Hogan, Terry Bradshaw and Kevin Federline, it can definitely happen to you.
The most common reaction after being served with divorce papers out of the blue can be summed up in three words: absolute total shock. How long that feeling of shock lasts depends on how long it takes you to hire an attorney.
Don't Get Taken by Your Wife's Attorney
If your wife has unexpectedly served you with divorce papers, she has a significant head start on you in the divorce process and is most likely counting on the element of surprise to keep you off-balance to sweeten her side of the deal.
A common tactic is for the wife to appear sympathetic once the initial dust settles, and offer to arrange a meeting for you with her and her lawyer. If you're invited to such a meeting, the best advice is DON'T GO!
Because there's so much uncertainty in your mind at this stage, you're in no position to agree to anything. Invariably, the meeting will go one of two ways:
They'll appear to be conciliatory, using language such as, "there's no reason to make this experience more difficult than it is. Work with us; we'll take care of you." This approach is designed to elicit a false sense of security; that everything will be ok and that you can trust them. Nothing could be further from the truth.
They'll try to bully you into prematurely agreeing to a settlement that is definitely not in your best interest. Again, you're most likely experiencing a tremendous amount of fear about the uncertainty of the future. Your wife and her attorney are counting on you feeling that way.
Hiring Your Own Attorney Makes Things Clear Again
Being blindsided by divorce papers immediately takes you far beyond your comfort zone. You invariably feel alone and afraid. Once you hire your own attorney, those feelings of anxiety will quickly begin to melt away as you realize you have someone fighting for your best interest.
Reasons For Hiring Your Own Attorney
Deep down, you may want reconciliation. But if your wife already has a lawyer, she's playing hardball and is definitely taking steps to make sure she gets the best deal possible – for her.
Your lawyer can provide you with:
Experience to make sure you receive all that you're entitled to;
Assurance of avoiding mistakes on legal proceedings that can cause significant financial harm;
Agreements that are clear, legal, and binding; and
Confidence that your divorce process will not drag on seemingly forever in the courts.
Let Us Fight For Your Rights
Because divorce is a life-changing experience, you've got enough to worry about. Contact the knowledgeable attorneys at Men's Legal Center. Our office is located in San Diego, California, but we proudly serve husbands, fathers, and non-custodial parents in many surrounding areas.