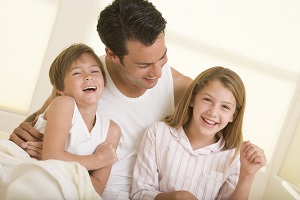 If you're a father who is either thinking about divorce or are about to go through the process, and you're concerned about being shortchanged on time with your children, there are steps you can take to better the odds of you winning a potential custody battle.
We'll talk about it in this issue.
How do California courts decide custody issues during divorce?
We've written previously about the types of custody (legal and physical) as they relate to divorce cases. According to California law, either parent can be awarded custody of the children. In fact, if you and your soon-to-be former spouse or partner can reach a custody and parenting agreement, the judge will most likely agree to it.
If both of you cannot reach an agreement, however, the court will make a decision based upon "the best interest of the child."
How can I increase my chances of winning a custody battle?
There are a number of proactive steps you can take that will show the court your interest and desire to secure more time with your children, and increase the likelihood of a ruling in your favor.
Be an involved dad.
There's no such thing as a father spending too much time with his child or children. In addition to spending as much time with them as you can, be proactive – and reliable – in things like taking them to school and picking them up, staying on top of their school duties (tests, homework, etc.), arranging for and taking them to doctor and dental appointments, attending their after-school events like sports games and performances.
Document everything.
Even if journaling is not your strong suit, the time and effort you spend with your children, and all the planning you make to address and meet their needs is definitely worth documenting. In the digital age, journaling and keeping detailed notes has never been easier; there are a host of apps that will transcribe audio recordings. Either way, documenting the efforts you make is more than worth the effort.
Flex your earning power.
Emphasize to the court how your income will be used to provide the child with a safe home, nice clothes and access to good schools. This is definitely an area in which "money talks."
Take the high road in all dealings with your ex.
We've said this in previous posts about a variety of topics because the truth of the matter is there is nothing to gain and a whole lot to lose by disparaging your ex. We understand that holding your tongue can take a whole lot of effort, so instead of bad-mouthing your ex in public or in front of your children (a huge no-no), vent instead to your closest friends or family members.
Get your own act together.
Showing that you can provide a safe and supportive environment is a huge plus in the eyes of the court. This includes being picky about who comes over to the house; keeping your home safe and clean; not taking your children to bars, rock concerts or R-rated movies, etc.
If you're a father facing divorce, in San Diego, call The Men's Legal Center.
There's a special bond between child and father. That's another reason why it's crucial to contact The Men's Legal Center if you're facing divorce. We'll make sure you have the resources and knowledge to position you for the best possible outcome in family court, and help to maintain your bond with your child.
You can reach us at 619-234-3838 or via email.