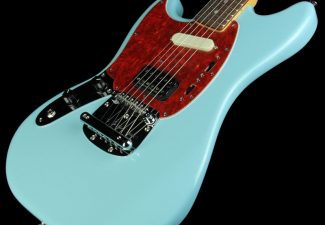 For fans of grunge heroes Nirvana, the acoustic-electric guitar played by frontman Kurt Cobain during the band's epic "MTV Unplugged" performance is akin to the Holy Grail of rock.
That same guitar is now at the center of an increasingly nasty divorce between the late singer's daughter, Frances Bean Cobain, and her estranged husband, Isaiah Silva.
The Story Background
When she originally filed for divorce in late March, Frances explicitly noted in the filing that Isaiah had no legal right to one bit of the inheritance that she was given as part of her late husband's estate, which is rumored to be about $450 million.
However, Isaiah wants to keep the now legendary guitar, which purportedly was the last guitar played by Cobain before his suicide. He maintains that the guitar was given to him by Frances as a wedding gift.
The guitar is one of only 300 Martin D-18E models ever made. It was insured for $1 million but is believed to be worth much more than that because of sentimental value.
Courtney Love, Frances's mother, says that she gave the guitar to her daughter.
Defining Separate Property
In her divorce filing, Frances insists that all premarital assets – including the inheritance – be awarded to her as separate property.
By definition, separate property belongs only to one spouse. While there are some differences from state to state in exactly how separate property is treated, the general idea is the same.
Common examples of separate property include:
Property owned by one spouse before the marriage
Inheritances received before or during marriage
Gifts received by a spouse before or during marriage
Property acquired by a spouse by use of separate property assets with the intent to keep it separate
Property that became the possession of one spouse – in their name – and never used to benefit the other spouse or the marriage itself
Have Questions About Marital Property Division? Get in Touch With The Men's Legal Center
Division of the marital estate is one of the most central requirements that must be satisfied before a marriage can be legally dissolved.
If you're facing divorce, make sure your rights are protected by getting in touch with us here at The Men's Legal Center. Our phone number is 619-234-3838 or you reach us via email.