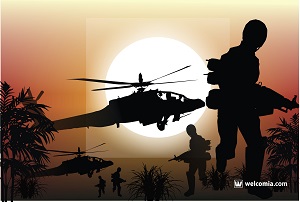 The latest data from the Pentagon tells us that the rate of divorce for male and female service members continued to hold steady at about 3% last year. That's the fourth consecutive year that the rate has floated between 3-3.1%.
In this issue, we'll talk about which branch and gender is experiencing the highest rate of military divorce, and talk more about the differences between military and civilian divorce.
Which branch of the military experiences the highest divorce rates?
According to the data, the divorce rate for female troop members is higher overall than male troops. In fact, the divorce rates among male troops across the branches of service have declined. Female Marines, however, have the highest divorce rate – checking in at 7.1%.
How do military and civilian divorces differ?
In a previous issue, we talked extensively about some of the differences (child and spousal support, pension and child custody) between military and civilian divorces.
But there are other differences.
You can postpone military divorce proceedings.
Under guidelines established by the Service Member's Civil Act, your divorce proceedings can be postponed "for a reasonable period of time" if you are on active duty when you're served with divorce orders.
Also, if a default judgement has been made against you while on active duty, you may be able to have your case re-opened, especially if you were serving overseas at the time.
Legal assistance will be limited.
Even though all military personnel will have access to free legal services provided by their individual branch, the help will typical fall into the category of "general advice." A civilian men's divorce attorney, on the other hand, will be able to provide skilled guidance in handling just about every facet of your case, including representation in court.
The spouse being served does not have to live in California.
As long as the person filing for divorce has been a California resident for six (6) months, the divorce filing can proceed. While the other service member doesn't have to live in California, she or he must be notified wherever they are serving.
Are you a service man seeking a military divorce in San Diego? Call the Men's Legal Center.
With about 110,700 active duty personnel and 118,300 family members here in San Diego, we've made it a point to know the ins and outs of the military divorce process, and can provide invaluable help and expertise every step of the way.
For more information about military divorce in San Diego, get in touch with us here at the Men's Legal Center by calling 619-234-3838 or via email.