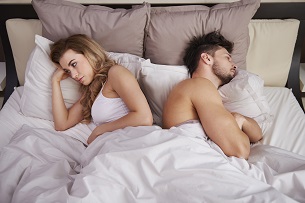 In August, actors Sam Claflin (The Hunger Games) and Laura Haddock (Transformers: The Last Knight) announced their decision to legally separate. The couple, married for six years, are the parents of two children.
In the statement, Sam wrote, "We will move forward with nothing but love, friendship and deep respect for one another while we continue to raise our family together."
What Are The Reasons For Legal Separation Over Divorce?

Everyone is different, so individual reasons will vary from couple to couple.
Keep in mind that legal separation is much like a divorce. Legal documents will have to be signed and adhered to. Also, decisions will need to be made about issues such as child custody, visitation, and property division.
There is, however, a host of benefits to legal separation.
Unlike divorce, there's no mandatory six-month waiting period.
Federal income tax breaks and military benefits for married couples remain in place.
Joint health insurance coverages continue.
Earnings and assets acquired after the legal separation begins are no longer considered community property.
While you're legally separated, though, neither of you will be able to marry someone else.
Do I Need A Lawyer To Reach A Legal Separation Agreement?
Because legal separation is a status recognized by the courts, it's best to have a San Diego divorce lawyer guiding you through the process to make sure everything is done correctly.
Legal forms will need to be completed and filed at the courthouse.
The legal separation agreement itself is a binding contract that affects practically all aspects of your life. Decisions about where your children will live; how living expenses will be paid for; whether or not joint banking accounts can be accessed, etc. all must be outlined.
If you're thinking about divorce or legal separation in San Diego, call the Men's Legal Center.

When a marriage is ending, communication between either spouses or partners can be challenging. Even if you're seeking a legal separation, a skilled divorce lawyer can guide the necessary conversations, and help reach decisions that are in everyone's best interest.
We are professional negotiators, and as licensed San Diego family law attorneys, the Men's Legal Center is here to guide you through the process and secure an outcome as close to your desires as possible
You can receive a free phone consultation and make your appointment by calling 619-234-3838 or via email.