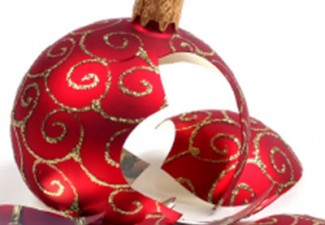 If you are a newly-separated dad, you are probably missing your kids and the holiday traditions you shared.  Even if you will have your children for part of the time during the holidays, it is still difficult to navigate the depression that can ensue when you realize that your life has changed so fundamentally.  If you are feeling too depressed to engage in any of your normal activities, be sure to seek help with a professional.  It is very important for you and your children not to allow depression to go untreated.
It may also help you to tackle the holiday blues by taking action.  Here are some small steps you can take that may help you chase away the feelings of sadness that are completely normal when you are going through such a big life event.
Don't stop decorating. You may be tempted to do without traditional holiday decorations, which can be time-consuming and expensive.  On the other hand, you may be able to devise lower-cost or timesaving alternatives to decorate your home or apartment.  The important thing is to engage in decorating, which often puts people in the holiday mood and provides a cheerful place for your children when they come to visit you.  This is also a great time to begin new holiday traditions; for example, let each child choose a new tree ornament and hang it while you all bake cookies.
Invite others. Even if you have a small apartment, you can host a small holiday gathering of your close friends or family.  All you really need is a friendly smile and a few refreshments!  In fact, most people are happy to bring their own dishes to a "potluck" dinner.  The important thing is to pull yourself out of your shell and engage.  Everyone will usually work with you if you make the first effort.
Get creative with holiday meals. There are so many resources available today for easy-to-prepare recipes on the Internet that there is no reason not to have a tasty holiday meal, even if you are the only one eating it!  Better yet, find several others who are in similar straights and suggest a holiday meal get-together where everyone pitches in to cook.  Best of all, donate your time at a homeless shelter or soup kitchen; this is guaranteed to give you a better outlook on life in general.
The attorneys at Men's Legal Center in San Diego wish you a happy and healthy holiday season.  We are here to help if you need us.