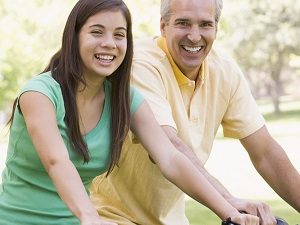 If you're a parent facing a divorce, it will probably take some time to get accustomed to the changes – some subtle, some major – in your relationship with your children. This is especially true if you're the father of a teenage daughter.
We've talked before about the importance of keeping the father-daughter bond strong. In that post, we shared research which confirmed: "the relationship she has with her father is one of the most vital components in your daughter's entire life."
When your daughter reaches her teen years, though, the mindset you adopt to maintain that relationship must be even more resilient.
It's a rite of passage, of sorts, for teenagers to roll their eyes, shudder, and give a bit of backtalk when interacting with their parents. When divorce is added to the home environment, a whole new level of "communication impossible" is common.
This is the perfect time for divorced dads to step-up their efforts to maintain and even build upon the father-daughter relationship. Here are a few strategies that can help you do just that.
Don't try to be her best friend.
Trying to be the "cool dad" or your daughter's best friend is the easy route to take, but it does no one any real good. Regardless of what she may say, your wisdom and protection are far more important than casual approval of everything she does. Being firm with discipline and limits will definitely benefit her more than just hanging out with her.
Avoid siding with your daughter over her mother.
It's imperative you insist that her mother must be treated with respect. Setting the example by doing the same yourself will do immeasurably positive things, as she learns that civility is best way forward, and that she should expect to be treated the same by others in her life.
Live in the moment.
Commit to at least one hour with your daughter without any diversions (cell phones, laptops, etc.). Concentrate on enjoying being with one another, being completely open to back-and-forth communication.
Don't forget the hugs and reassurance.
Even though she may no longer wish to hold your hand in public, realize that's perfectly normal. Give your daughter a reassuring hug anyway, and never forget to tell her that you love her. This approach is backed up from research by the American Psychological Association, which confirms that "consistent affection protects children from mental illnesses and feelings of depression."
If you're a parent going through a divorce, call the Men's Legal Center.
As licensed San Diego family law attorneys, the Men's Legal Center is committed to your parental success during and after your divorce.
You can receive a free phone consultation and make your appointment by calling 619-234-3838 or via email.