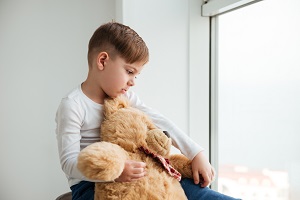 Deciding whether to divorce is rarely an easy one – especially if you have children. If the marriage is repairable, working towards a solution is perhaps the best course. But opting to remain together solely because children are involved often ends up causing more harm than good and should consider speaking to a San Diego family law attorney.
What's Best for the Children?
While there's plenty of research reinforcing the fact that children do better when both parents are actively involved in their lives, being involved doesn't necessarily require staying married.
Staying in a tension-filled marriage can have huge negative results for the child and divorces are increasing worldwide.
For example, if you're constantly arguing with your spouse or partner, that's likely to become the norm for your child's notion of love. When tension is the hallmark between married couples, relationships between the parents and the children can also become strained.
In other words, in a marriage that is filled with anxiety, everyone who is a part of that household is likely to be impacted negatively.
What do the Children Say?
A survey carried out by a British law organization found that most young participants who experienced divorce as a child say parents should not remain together merely for the sake of the children.
When asked for the advice they'd give to parents struggling with the decision about whether to divorce, one participant said that it would be "better to divorce than stay together another few years and divorce on even worse terms."
Another participant said children would likely "realize later that (divorce) was for the best."
Digging deeper into the survey results, we find that:
31% of the participants would rather their parents not criticize each other in front of them
30% said they'd like the parents to realize what it's like to be in the middle of the process.
How do parents maintain their parental bonds after divorce?
Each situation, of course, is different but there are ways to set the stage for a healthy parental post-divorce role.
Mediation, collaborative divorces, and the establishment of a parenting plan can position both parents in a way that enables them to control the divorce process itself while still meeting the needs of the children.
If You're Struggling With the Decision About Whether to Divorce, Call the Men's Legal Center to Discuss Your Options.
We understand that divorce is a life-changer for everyone involved. That's why you and your spouse or partner need to go through it with a complete understanding of how you can lessen the impact on your children.
Here at the Men's Legal Center, we offer free phone consultations, so get in touch with us to have your questions answered like how divorce papers are served in California.
Our number is 619-234-3838 or you can reach us via email.