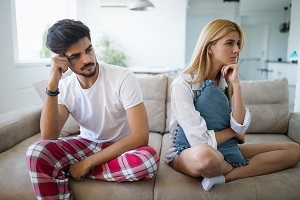 While a California divorce can take as little as six months or drag on for years, much of what's ahead in your post-divorce life is settled during the pretrial negotiations.
Whether you win or lose at that opening stage is largely dependent on the strength of your legal strategy.
How is the Opening Stage Set in a California Divorce?
According to California law, the person who files first for divorce has the opportunity to ask for temporary orders. This "schedule" can include things like a proposed custody and visitation schedule, living arrangements, spousal support, bill payments, use of a car, etc. until the divorce is finalized.
In other words, temporary orders will dictate how your life and family operate while the divorce plays out.
How are Temporary Orders Established?
While either of you can make the request for a temporary order, you have a limited window of opportunity to respond if you did not file the divorce petition.
The process for having a judge consider your temporary orders is straight forward enough, but a qualified divorce attorney guiding your way will be enormously beneficial. An attorney will know how to structure and word your request for maximum effectiveness.
As for the process of establishing temporary orders, it usually plays out like this:
Complete the necessary court forms and have them reviewed by your divorce lawyer
File the forms with the court
Receive your court date
Have someone other than yourself serve notification papers to your spouse or partner
File your proof of service, which will be completed by the person who served your notification
Attend the court hearing.
If your request involves issues like spousal support, bill payments, etc., you should bring as much paperwork to substantiate your request.
These hearings are usually rather short, and judges often make a decision on the spot.
Why Should I be Concerned About Temporary Orders?
The problem with temporary orders is they often become long-lasting. In essence, they can easily set the stage for your new norm.
If you don't like the effect that temporary orders have, it's up to you to change the mind of the court – and that's a tough task.
How Can I Get The Result I Want?
As we wrote in a previous entry, by being the first to file for divorce, you set the stage for your divorce timeline. With this crucial head start, you dictate the issues to be decided in the divorce process, and you have the opportunity to make the first filing of the temporary orders request.
In football speak, your filing first automatically puts your spouse or partner on defense, or in reactionary mode.
Other advantages to filing first include having the divorce decided in your jurisdiction and launching the immediate Automatic Temporary Restraining Order (ATRO), which locks down your assets and prevents them from liquidation.
If You're Thinking of Divorce in San Diego, Call the Men's Divorce Lawyers at the Men's Legal Center.
Even if you're feeling reluctant about being first to file for divorce, the advantage of doing so is simply too valuable to lose.
For a free phone consultation about your options, and to make an appointment, call us at 619-234-3838, complete our quick online form, or get in touch via email.