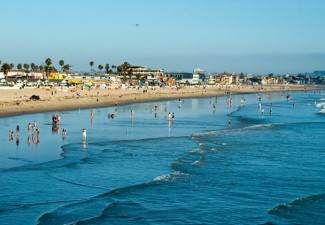 Being a "weekend dad" can be tough. It is even harder when your kids seem to be bored when they visit you. In fact, dads are often so afraid of boring their children on their weekends with them that they overbuy on toys and other expensive items. Remember, your kids want quality time with you—not expensive gadgets!
San Diego offers a wide variety of kid-friendly venues. When it is your time with the kids, take them to one of these locations for a memorable "dad weekend!"
1)      San Diego Zoo. This zoo is famous around the world for its rare and exotic animals, and kids under 3 are free with a paid adult admission. Spend the day teaching the kids about the beautiful world we share with fascinating animals from around the globe.
2)      Sea World San Diego. This incredible marine-based theme park offers interaction programs with dolphins and Beluga whales as well as great shows and exhibits. If your kids love the ocean, they will go crazy for Sea World!
3)      Belmont Park. Belmont Park combines the best of an amusement park with water activities, rock climbing and other attractions.
4)      Birch Aquarium at Scripps. If you really want your kids to have a fun and educational experience, the Birch Aquarium at Scripps offers a ton of hands-on, interactive exhibits and activities.
5)      New Children's Museum. From toddlers to teens, the New Children's Museum offers educational and fun activities all year round.
6)      Legoland. Legoland is great fun centered around everyone's favorite building blocks. Help your small children build exciting Lego creations, while older children enjoy the "big kid" rides.
7)      Discovery Science Center. Spend an afternoon with your kids centered around learning all about science while still having fun!
Things To Do For Free
If you do not have a lot of spare cash after paying your bills, there are still many fun and exciting things to do with your kids for free around San Diego.
1)      Take a trip to the beach. All 33 of San Diego's public beaches are free, and for the price of a tank of gas, you can spend all day with your kids basking in the sun, building sand castles and swimming or boogie boarding.
2)      Spreckels Park Summer Concert Series. Bring a picnic supper and enjoy the music on first and third Sunday evenings in Spreckels Park.
3)      La Mesa Car Show. If your teens are into muscle cars, check out the La Mesa Car Show every Thursday night from June til August. The show is held weekly on La Mesa Boulevard and often features live bands.
4)      Lake Murray Fly Fishing. Free fly-fishing lessons are available every Sunday morning from 9:00 a.m. to 12:00 p.m. Bring your own equipment or borrow some if you arrive early enough.
5)      Mission Bay Park trails. Bring a lunch and hike, bike or just stroll the miles of trails in Mission Bay Park.
There are plenty of things to do this summer with your kids, so get out and make some memories!
If you are struggling with custody or support issues, contact the Men's Legal Center.