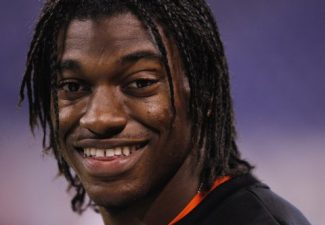 NFL star quarterback Robert Griffin III (aka RG3) is getting a divorce from his wife of three years. The way he went about breaking the news to his spouse, though, just wasn't professional.
Wife Says She Was Blindsided
While Griffin and his wife had been separated for months after she found out he was seeing another woman, she maintains that she was working hard to save the marriage.
Apparently, she and Griffin were not reading from the same playbook. She claims she was completely blindsided by the news that Griffin had filed papers for divorce.
In what can be perceived as rubbing a bit of salt in the wound, Griffin has tattooed his new girlfriend's name on his arm.
And while Griffin and his new fling met on Instagram, he has taken steps to remove all traces of his wife from his account.
Don't Blindside Your Spouse
In an earlier blog entry, we spoke of what to do in case you're blindsided by divorce papers. In that piece, we wrote that being blindsided "immediately takes you far beyond your comfort zone" and you will most likely "feel alone and afraid."
Making your spouse feel that same way can do you no favors.
It's All in the Timing
Sharing the news with your spouse that you want a divorce is a delicate matter indeed. How you go about it can be a game changer in terms of how difficult and contested the actual divorce process will be.
Remember, as the person initiating the divorce, you've already had a bit of time to consider how your life will proceed. You spouse will need time to adapt to their new reality and the transition ahead.
Blindsiding your spouse can be akin to pouring gasoline on fire, and your divorce process could be affected out of vengeance.
When the time is right to share the news that you'd like to divorce, it's definitely in your best interest to be as direct and compassionate as you can be.
Beginning the breakup in as respectful manner as you began the relationship can go far in making the inevitable transition as peaceful as possible.
If You're Thinking Of or Already Facing Divorce, Call The Men's Legal Center
Here at The Men's Legal Center, our sole focus is to make sure that you are treated fairly in the divorce process.
Get in touch with by calling (619) 234-3838 or sending an email.