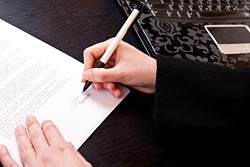 Many jurisdictions around the United States have adopted what is known as a 'no-fault' divorce system over the years, and this approach to divorce is designed to avoid lengthy litigation whereby the spouses need to spend time in court proving how much each spouse is at fault for the marriage failing.  New York was one of the last holdouts in changing to this system, and it has now been two years since the new no-fault laws were enacted.  Since then, divorce cases have risen in number.
According to records kept by the state, divorce filings rose by approximately 11 percent in 2011, which was the first full year that the no-fault system was in place.  There were a total of more than 64,000 divorce filings during the year.  At this point, it looks as if the number of divorce filings in 2012 will surpass the number of filings from 2011.  This was expected by many experts, but some are surprised that the number isn't higher.
However, other experts and divorce lawyers in the state believe that the number of divorce cases filed will continue to rise after the recession is put in the past, as many believe that people are remaining together because of overall financial concerns.  Many of the attorneys in the state have also noticed that the average divorce case tends to move faster than under the old system.
San Diego Divorce Lawyers
People in California who face the end of their marriages are able to proceed with their cases under the no-fault divorce system.  While this is generally seen as advantageous for those involved in these situations, the fact of the matter is that people who face this situation still need to take steps to make sure that their legal rights are properly protected.
If you are one of the many people who are facing this situation, you need to seek the help of San Diego divorce lawyers who have been fighting for the rights of husbands and fathers for many years.  Contact the Men's Legal Center today to schedule an initial consultation.