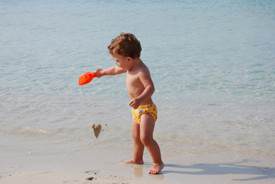 For generations, child custody battles have been as nasty as any legal issue can get, as emotions tend to run high and logic tends to disappear when parents are dealing with this situation. Part of the reason for this intensity is that for most of this time, one parent would generally 'win' the case and the other would lose. That's been changing somewhat in recent years, as more and more jurisdictions are looking to keep both parents of children involved after a divorce. Arizona is the latest example.
Starting in 2013, a new law regarding Arizona child custody is set to take effect. That law requires judges who handle child custody issues to enact plans that encourage and help to maximize the time that each parent spends with the child or children. Some of the legal jargon regarding these situations will also change, but the motivation behind the law is to do as much as possible to make sure that both parents maintain close relationships with children even after a divorce.
These laws are becoming more prevalent across the United States, and the norms regarding the custody of children are changing rapidly. As a result, both parents of a child or children need to make sure that they are properly prepared to work towards a plan that will be accepted by the court that is overseeing their case.
San Diego Child Custody Lawyers
If you are a father who is facing the possibility of dealing with a child custody issue, you need to remember that it is not an automatic decision that the child or children will be given to the mother. You need to take steps to review your situation with an experienced professional who understands these norms and situations.
If you are a father dealing with this problem, you need to seek the help of San Diego child custody lawyers who have been fighting for the rights of clients successfully for many years. Contact the Men's Legal Center today to schedule an initial consultation.