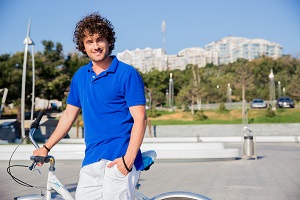 We've written quite a few posts about how you can actually benefit from divorce. We're not talking about benefiting in the financial sense, although that certainly is possible. Rather, recent articles have centered upon divorce making you better at business and a better father.
In this article, however, we'll talk about how you hold the keys to your happiness by literally choosing it, and how your post-divorce experiences can be among the happiest in your life.
How can I choose happiness?
According to some experts, yes, you can. In fact, those experts say that while a great deal of our mood level can be determined – in part – by things like genetics and environment, roughly 40% of our overall happiness is by choice.
Well-known psychologist William James said it best when he wrote, "The greatest discovery of any generation is that a person can alter his life by altering his attitude."
How can I be happier after divorce?
Not only can you be happy following divorce, you can be far more happier than you ever thought.
Yes, divorce is a life-changer, but it also puts you in a position that – with the right attitude – can prepare you for a much brighter life experience.
Take stock of what you have.
The words "depression" and "grief" are also natural emotions that practically everyone – not just those going through divorce – experience. The key is not to let the sadness become a habit. Rather, focus on what you do have following your divorce (continued relationship with your child, freedom to make decisions for yourself, shelter, job, etc.).
This attitude adjustment actually provides you with a sense of momentum that can be harnessed to make your continued happiness an actuality.
Look at your past experiences with gratitude – not regret.
Admittedly, this can be a tough one. Focusing on the past and blaming yourself or your ex is a sign that you're stuck emotionally. Only by leaving the past behind – and learning from your life experiences – are you able to become and accept the man you are today.
Chart your course.
All the plans that you and your ex had for the future are gone because of the divorce. However, the divorce is not – or should not be – the end of your dreams. This is the time to begin dreaming again about what you want your life to be.
If you're a man facing divorce in San Diego, call the Men's Legal Center.
Yes, divorce is a big deal. It's also a life-event that requires the steady hand of a skilled lawyer who can protect your interests so that you're better positioned for the best possible outcome.
Call us here at the Men's Legal Center. Our number is 619-234-3838 or you can reach us via email.