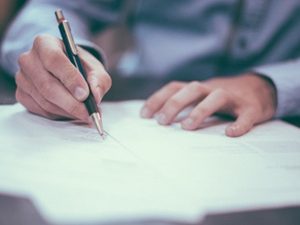 There's an intriguing divorce case going on right now involving a multimillionaire and his soon-to-be ex-wife who is wanting considerably more than what she agreed to in a prenuptial agreement.
The word from the judge in the ongoing saga is especially interesting. Speaking to the wife's lawyer, the judge said, "Yes, he has the ability to pay it but that doesn't mean that she's entitled to it or that I would order it."
The Case at a Glance
Alicia Stephenson actually filed for divorce from Richard Stephenson, founder of Cancer Treatment Centers of America, seven years ago. After years of trying, the couple was unable to reach a settlement on their own, so they've gone to court.
In her divorce petition, Alicia is seeking $400,000 per month. That's quite a bit more than what the prenup calls for. In the agreement that she signed before their marriage, Richard agreed to give her $250,000 toward the purchase of a home.
A Ritzy Lifestyle…But Does it Matter?
The reports state that because the marriage lasted longer than seven years, her monthly needs would be determined by negotiation or by a court.
Over the course of a week during the divorce trial, Alicia's attorneys paraded a throng of witnesses to confirm Richard's lavish lifestyle. Their recollections included tales of mansions, private jets and fancy parties enjoyed by Alicia during the marriage.
The point of all of that, according to her own lawyers, was to show what she had become accustomed to and that she should be able to maintain that kind of lifestyle even though the marriage had ended.
How Binding are Prenups?
We'll definitely keep our eyes on the Stephenson case and bring you the updates. In the meantime, their situation triggers a good question: just how binding are prenuptial agreements?
Here in California, there is a Uniform Premarital Agreement Act, which governs everything about prenups in this state.
Essentially, the law says that written prenups signed by both parties automatically go into effect once the two have married. It can cover their present and future property rights in addition to other matters related to the marriage. The main thing it cannot do is negatively impact a child's right to child support or override the power of the court to set custody and visitation after the marriage.
As long as certain requirements are met, most prenup agreements in California are enforceable against a spouse only if that spouse:
Received all details about the other party's property and finances before signing the prenup
Had a minimum of seven (7) days between receiving the prenup and signing it
Was represented by a legal representative when signing the prenup unless he/she waived in writing the right to legal counsel after receiving all of the information
Make Sure Your Prenup is Legit by Calling the Men's Legal Center
As you can tell, prenups are legally binding as long as certain criteria are met. To see if yours is legally binding, contact the Men's Legal Center of San Diego at (619) 234-3838 today so that we can schedule an initial consultation with you.