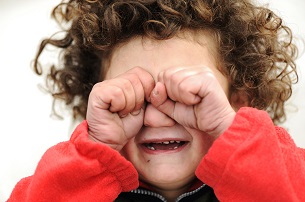 We, humans, are emotional creatures, and it's not unusual for parents to struggle with ways to deal with outbursts or tantrums from their children. The dilemma can be especially challenging for single parents.
In this issue, the San Diego family law attorneys with The Men's Legal Center will share tips for how single parents can manage the meltdowns of children who are having a bad day.
Taming Your Child's Meltdown
Keep your cool and try to understand what your child is experiencing.
When your child is either screaming uncontrollably or in complete silence mode, it can be difficult for a parent to remain patient. In situations like this, less is more from the parent.Patience, compassion, and understanding, are the keys for resolving the outburst quicker. Yelling back at your child or putting up your own wall of silence will only exacerbate the tantrum.

Remain calm, patient, and open to discussion, you're not coming across as weak; rather, your children continue to know that you're an ally for them and a good sounding board.

Validate your child's feelings. This doesn't mean you're agreeing with your child. Instead, calmly listening and repeating what your child's concerns are, this tells your child that you are truly listening and understand what they're going through. However, don't forget to be reasonable.
Provide a distraction.
Meltdowns or tantrums from children are just like many other things: they won't last forever.
Good distractions are; going out for a walk, watching one of their favorite TV shows, or reading to your child. Another good idea is to share a memory from your own childhood when you went through a similar situation. Talk about how small the problem can be when looking at the larger picture.
For expert service and advice from a men's divorce lawyer in San Diego, call The Men's Legal Center.

If you're facing divorce, get in touch with us here at The Men's Legal Center. We're committed to making sure you have the resources you need as you begin this new chapter in your life.
You can reach us by phone at 619-234-338 or via email.