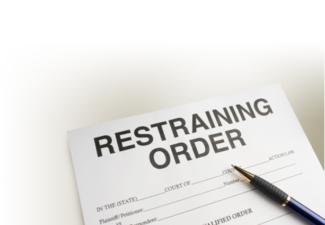 The level of conflict in some divorce cases can be so intense, one party feels forced to take action against the other spouse or partner with a restraining order.
What's the process for obtaining a restraining order during a California divorce? What exactly does the order do? What should I do if a restraining order is filed against me? How can it affect your California divorce?
In this issue, the San Diego divorce attorneys with The Men's Legal Center will provide an answer to those questions, as well as provide a few high-profile examples.
If you currently going through a divorce or are considering doing so, get in touch with us here at The Men's Legal Center by calling 619-234-3838 or via email.
We're among the best family law firms in San Diego. We will examine your situation from all angles as we develop a strategy for positioning you for the best possible outcome from your divorce.
What is a restraining order in terms of a California divorce?
Divorce has the potential to be a highly emotional experience. Sometimes, one spouse or partner can make the other feel unsafe through actions such as threats of violence, continuous unwanted phone calls, and perceived stalking.
One obtained, a restraining order will lawfully prevent the accused spouse of a partner from continuing the harassment.
How common are they used during divorces?
You can seemingly read about them all the time – especially in celebrity divorces.
In a recent issue, we told our readers about the contentious divorce between actors Duane Martin and Tisha Campbell-Martin. Even though Tisha was able to obtain a restraining order through somewhat suspicious claims, she has since dropped it so that the two could concentrate on co-parenting as their divorce continues.
In a more recent case, Sarah Jones was able to obtain a restraining order against soccer player Jermaine Jones for perceived stalking.
Is it difficult to obtain one?
A restraining order during a divorce case can be obtained by filing forms with the court. In the forms, you must explain the situation and suggested terms for the restraining order.
What can I do if a restraining order is filed against me?
You essentially have two options.
You can wait until the deadline passes.
Working with your San Diego divorce lawyer, you can file a motion to have the order lifted or modified. This action is common when it prevents either part from carrying out their normal business or prohibits time with the couple's children.
Even if you're facing a restraining order, there are available options. Call The Men's Legal Center in San Diego.

The main lesson to learn during your divorce process is to be prepared for just about anything. For example, some restraining issues are based upon completely bogus claims.
To find out how we can help you, call The Men's Legal Center at 619-234-3838 or send an email.