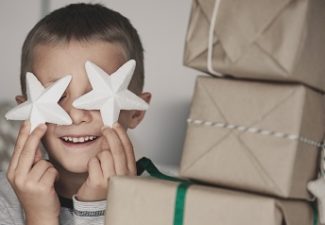 In our recent entry about co-parenting your way to a happy holiday season, we talked mainly about how to schedule your holiday family time. With this issue, we stay with our family holiday theme and focus on the gift-giving strategy.
Too often, parents turn the holidays into a gift-giving turf war while trying to outclass one another in the eyes of their children.
Trust us; no one comes out of that battle as the victor.
Whether you're going through the California divorce process or have settled into your post-divorce life, it's important to do what you can to make sure your children enjoy the holiday season as much as possible.
Do not compete with your child's other parent.
The holidays are a time for giving…not out-doing one another. Rather than drawing attention to any feelings of inadequacy (either real or perceived), focus on doing right this holiday season.A good way to make sure of the right decision is whether the gift you're making or buying puts you on a joyous or combative pathway. Your gift will be a direct display of how in-tune you are with the recipient.Don't underestimate the ability of your child to pick up on your behavior. Just like you, your child has an innate ability to sense when one is being genuine.
Establish a price limit or range or chip in together for a big gift.
If there is a financial gulf separating the incomes of either parent, significant disparities in gift costs can easily result in hurt feelings. To make sure this doesn't happen, set a price range to which you both agree to stay within.If there is a particularly big-ticket item you want to give your child, consider approaching the other parent about chipping in on the cost – even if for only a small portion.
Let the gift stay with the child.
Your child should decide where they want to keep your gift. Even though you may not like the idea of a cool gift to be kept forever in the other household, remember to look at it from your child's point of view.For it to truly be a gift, there should be no strings attached.
Help your child select a gift for the other parent.
While you may not particularly want to give a gift to your former spouse or partner, consider that most children want to do things for special people in their lives as well.Give your child help with selecting a gift for their other parent. It could be as simple as a nice framed photo, homemade craft or a quality shirt.
The Bottom Line
While gift-giving is a strong holiday tradition and is a way to express your care and love for your family, the most important thing you can do is spend time with your children this holiday season.
In years to come, your children may remember the gifts you give, but what's sure to stand out in their minds are the happy holiday times you spend together.
For Information About the California Divorce Process and Resources, You can Use Throughout Your Post-Divorce Life, call the San Diego Divorce Attorneys with the Men's Legal Center.
We've worked hard to establish our reputation as the family law center of choice in San Diego. Whether you're thinking about divorce, are already going through the process, or are already in your post-divorce portion of your life, we invite you to search our site and get in touch to talk about your options.
For a free phone consultation or to schedule an interview, call us at 619-234-3838. You can also reach us online or via email.