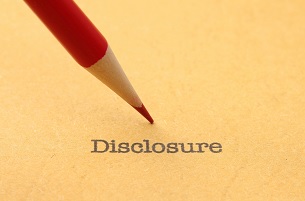 For some who are going through divorce, there can be a tendency to be less than forthcoming when it comes time to disclose things like income, assets, debts and expenses.
However, because the gathering of information is critical to reaching a fair and equal result, the court has placed legal requirements on what must be shared.
In this entry, we'll talk about laws pertaining to divorce disclosure in California.
Are divorce financial disclosure forms mandatory in California?
Yes, each person going through the divorce process in California must complete and submit their detailed financial statements to their soon-to-be former spouse and their attorney in the early stages of the procedure.
How long do I have to complete financial disclosure forms?
The financial disclosure forms must be completed within 60 days of when the petition of divorce was filed and within 60 days of the respondent's answer.
While these timeframes may seem tight, the goal is for the case to move along as quickly and efficiently as possible.
What does the Declaration of Disclosure consist of?
There are actually three (3) forms that need to be completed:
Declaration of Disclosure – this is essentially a cover sheet for your submission
Schedule of Assets and Debts – a full listing of all assets and debts, including items of which you only have an ownership interest in
Income and Expense Declaration – complete information about your employer, salary, tax status, education, benefits, etc.
What happens if I or my spouse fail to provide the disclosure documents?
Because the disclosure forms are required, it's in your best interest to comply. If you don't, your spouse can:
File a motion to compel a response
Prevent you from presenting evidence later on that should have been in the Declaration of Disclosure
Impose fines on you to cover attorney fees, costs incurred, etc.
Can I object to what is asked for in discovery?
Yes. In fact, there may be areas for numerous objections, including if what's being asked for is
Not relevant to the case
Too vague
Too burdensome to complete
Make Sure You Do Things The Right Way and The Legal Way: Call The Men's Legal Center
A divorce is a process. To make sure all of your interests are protected, and all requirements are completed and done the right way, get in touch with us here at The Men's Legal Center.
Our number is (619) 234-3838 or you can reach us via email.