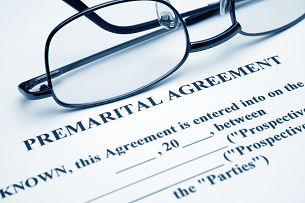 Increasingly more and more millennials (18-34) are requesting a prenuptial agreement with their partner or spouse. That is according to a widely published survey completed by the American Academy of Matrimonial Lawyers (AAML).
But what's behind this trend? We'll talk about it in this issue.
Going Behind the Numbers
For their survey, AAML talked with 1,600 of their members. Of those, about 51% said there was an increase in prenup requests among millennials. Another 62% of the respondents said the trend is one that's been going on for the last three years.
What's Behind the Trend?
By and large, millennials are entering marriage at later ages than other groups. According to AAML president John Slowiaczek, that's a huge tip-off for what's driving the uptick in prenup requests.
"They've been on their own, accumulated some wealth, either from a 401(k) or a stock program provided by their employer or some real estate, and they want to make sure that's theirs if there are problems down the road," Slowiaczek said in an interview with CNBC.
Requirements for Prenups
The Uniform Premarital Agreement Act is the law that governs everything about prenups in California.
Among the requirements for a prenup to be enforceable in California are that the spouse:
Received all details about the other party's property and finances before signing the prenup
Had a minimum of seven (7) days between receiving the prenup and signing it
Was represented by a legal representative when signing the prenup unless he/she waived in writing the right to legal counsel after receiving all of the information
The main thing a prenup can't do is negatively impact a child's right to child support or override the power of the court to set custody and visitation after the marriage.
Call The Men's Legal Center to Make Sure Your Prenup is Legit
You don't have to be a millennial to protect yourself with a prenup as long as you're of legal age, contact the Men's Legal Center of San Diego at (619) 234-3838 today so that we can schedule an initial consultation with you.