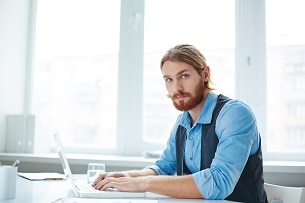 From both spouses and children to extended family and friends, a divorce can have a tremendous impact on more than just the two people choosing to end their marriage. One of the places that can be impacted quite a bit is the one place where adults spend most of their time in a week: work.
In this issue, we'll share results from a recent survey about the impact a typical divorce will have on the workplace.
Why would my boss care about my divorce?
It's true that your divorce is an incredibly private matter. But because employees are husbands, wives, fathers, mothers and siblings well before they're considered employees or managers, the personal aspect of our lives can be difficult to shut out with a turn of the office door.
Editors with Corporate Wellness Magazine – a human resource industry trade publication – said "Employers and wellness managers need to recognize that their staff's personal out-of-office relationships are their business…and (you) must find ways of supporting employees to their benefit and the benefit of your organization."
How can a divorce affect a workplace?
There are actually quite a few ways that a business can be impacted by divorce.
According to a recent study carried out by Integrated International Development and published on BLTStrategies, the ways divorce can impact a workplace environment include:
An average cost to a business of $83,000 for one divorcing employee (lost productivity, costs of mistakes, etc.)
Up to five (5) years for the average employee's productivity to recover to pre-divorce level
Employee being unavailable for travel or overtime work hours
Time off for court dates and other divorce and child custody-related issues
If the employee getting divorced is a key executive with the business, the impact to the organization as a whole can be far more dramatic.
If You're a Man in San Diego Facing Divorce, Call The Men's Legal Center
Because divorce can be a mentally exhausting process, it's imperative that you understand how it can impact your job. By partnering with a skilled lawyer, though, you'll be much more likely to go through it with a greater understanding of what needs to be done.
Call us here at The Men's Legal Center; our number is (619) 234-3838 or you can reach us via email.