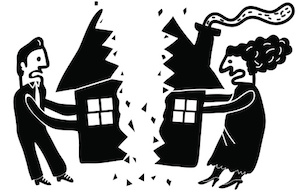 The end of a marriage is not only filled with strong emotions but also with the fear of protecting one's assets. Property division is the process of dividing the marital estate. The marital estate can include savings and investment accounts, real estate, and other assets accumulated during the marriage.
According to a study by researchers at Bowling Green University, a growing number of older couples are facing divorce, with the divorce rate among people aged 50 and older doubling in the two decades. For late-life divorcées, the divorce property split tends to be the largest financial transaction they will undertake in their lifetimes.
Financial Problems After Late Divorce
The financial fallout of divorce, especially later in life, can be devastating for both parties. The U.S. Government Accountability Office revealed that after divorce, a man's income typically falls 20 percent, while a woman's typically falls 41 percent. Not only does a woman face a larger household income loss on average, but women are more likely to have spent years out of the workforce which makes it tougher to find a job.
When the decision is made to divide the marital estate, important considerations should be examined. Before dividing marital property, a list of all property must be created. This "property" includes the money each spouse earned while married and what was purchased with that money. This can include property, vehicles, and household items, but also extends to retirement and pension plans. The property must then be fairly divided, though in the high stress environment of divorce, this can be difficult to accomplish without help.
In conjunction with the division of property is the division of liabilities. Thus, any marital debt that remains at the time of divorce should be divided between the two parties. Generally, debts are divided as evenly as possible between the two parties, while taking into consideration the financial positions of each party after the divorce is complete.
The process of property division can be overwhelming to those who find themselves in the already stressful situation of divorce. If you are facing the end of your marriage, you are encouraged to seek the legal aid of the experienced property division lawyers at the Men's Legal Center in San Diego, California. The lawyers of the Men's Legal Center will take you step-by-step through the property division process, including the definition, valuation, and division of assets.
The San Diego men's rights lawyers at the Men's Legal Center are committed to pursuing a fair, equitable, and positive result in all divorce and property distribution cases.