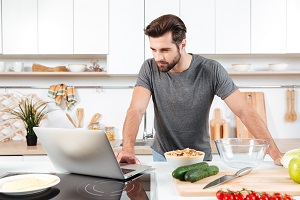 If you're a divorced father – or soon will be – and cooking isn't exactly your strong suit, it's time to get up-to-speed with a few tricks up your sleeve. Below are a few quick, practically-anybody-can-do-this recipes so that you and your kids won't have to eat scrambled eggs and toast all the time.
This is good information for you and your children because, in part, studies have shown that children who eat dinner with their families are much less likely to use drugs, smoke or drink alcohol.
Basic Tools You'll Need
Before we go any further, there are a few kitchen essentials you'll need.
Crockpot or slow cooker: you'll be amazed at how easy cooking delicious meals can be with slow cookers. With many slow-cooker recipes, you simply pour in the ingredients, turn it on "low" and head out to work. It's very helpful if you can find a slow cooker with a timer.
Microwave oven and add-ons: from popcorn, side-dishes, soups, etc., where would we be without microwave ovens? You may want to also consider a microwave bacon cooker (great for BLT sandwiches or breakfasts) and a microwave potato pouch for expertly cooked baked potatoes.
Measuring cup: be sure to also get measuring spoons.
Spatulas: make sure you have both a metal and rubber spatula.
A good set of knives
A set of pans, including a frying pan, roasting pan, skillet and a saucepan
Easy Peasy Divorced Dad Recipes
A good idea to start is to make sure you know what your kids like and don't like, then build your repertoire around that. This can help you develop a couple of go-to standby dishes that you can throw together fairly quickly.
Slow Cooker Pot Roast
What you'll need:
4 pounds of boneless beef shoulder pot roast
4 dashes of salt and pepper
2 cloves of minced garlic
1 bag of baby carrots
2 pounds of potatoes – peeled and cut
What to do:
Put the roast in the slow cooker with the potatoes and carrots placed around it.
Cook on low for 8 hours.
Easy Chicken Fajitas
What you'll need:
1 pound of boneless chicken breasts cut into thin slices
3 cups of bell pepper strips
2 cups of vertically sliced onion
1 teaspoon of chili power
2 cans (10 oz each) of diced tomatoes and green chilies
1 or 2 packs of flour tortillas
What to do:
Coat a pan with cooking spray and being to medium heat.
Add the peppers and onions, and cook until tender. Then remove and set aside.
Add the chicken to the skillet and season with chili powder. Cook until meat in no longer pink.
Add the cooked peppers and onions back to the skillet, and add the drained tomatoes and chilies, and cook until hot.
Divide the chicken and mixture evenly on the heated tortillas, and serve.
Slow Cooker Cheesy Chicken Broccoli Soup
What you'll need:
1 pound of boneless chicken breasts
5 cups of chicken broth
1 large head of broccoli that's cut into smaller florets
1 1/2 cup of shredded cheddar cheese
1 pound of baby potatoes (peeled) and cut into cubes
1 chopped onion
1/4 cup of flour
1 cup of heavy cream
1/2 cup of grated Parmesan cheese
What to do:
Place the chicken breasts, broth, potatoes, broccoli and onion into slow cooker, and season with salt and pepper.
Cover and cook on low for 5-6 hours or until chicken is thoroughly cooked.
Place chicken in large bowl and shred into small pieces.
In separate bowl, whisk flour and cream, then pour into slow cooker.
Place chicken back into slow cooker with both cheddar and Parmesan cheese.
Cover and cook on high for 30 minutes or until the cheese has thickened.
Pour into bowls and serve immediately.
Facing Divorce in San Diego? Call The Men's Legal Center
If you're a man facing divorce, we urge you to get in touch with us here at the Men's Legal Center. Our sole purpose is to make sure men have the resources and knowledge they need for the best possible outcome in family court.
You can reach us at 619-234-3838 or via email.