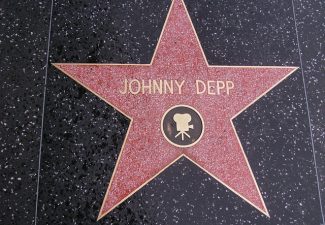 There's word from the Johnny Depp and Amber Heard camps that Depp is desperately trying to keep details of their divorce proceedings private.
In a previous blog entry, we shared the news that Depp may have been set up by Heard with reports of verbal and physical abuse throughout their four-year marriage.
The latest news regarding the (so far) denied requests for confidentiality give insight into how nasty this particular divorce could get.
Behind Depp's Request for Confidentiality
According to reports, Depp filed his request for confidentiality of certain aspects of the divorce proceedings on July 15.
Depp and his lawyers say that Heard has refused to sign at least two agreements for confidentiality. That's why Depp filed his request with the court.
Depp's requests state in part that "all documents produced by Depp in this action and any third parties subpoenaed shall be designated as 'Confidential Information.'"
He maintains that he is not disputing Heard's right to information that is sought during the discovery process used in evaluating any estate or spousal support agreements. His request, rather, centers on an effort to protect the privacy of both he and Heard.
Depp remains particularly peeved about what he suspects was Heard's deliberate leaking of provisions from prior settlement discussions to at least one media outlet.
What Marriage Documents Can Be Kept Private?
In another recent blog, we shared news of David Cassidy's success in having his divorce records sealed.
Even though most court proceedings – including marriage – are thought to be public matters, there are exceptions that can be made in keeping certain aspects secret.
You can read those here.
The Men's Legal Center Can Help Keep Details of Your Divorce Sealed
If you do not want aspects of your divorce to be available for access, The Men's Legal Center can help you with that.
Even if the court decides against sealing the records, you may still be able to redact certain sections.
You can reach us by calling (619) 234-3838 or via email.