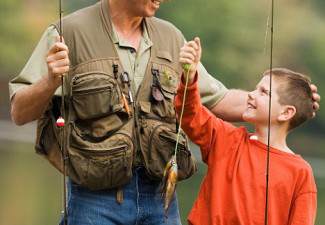 Dads, it is your weekend with the kids and you want to make it a weekend to remember. You took Friday afternoon off and are hoping there is something more to do than toss the baseball outside. How do you keep your kids happy and excited about coming to see you when you only have a few days with them at a time?
The Men's Legal Center understands how tough it can be to be a "weekend dad." Because of this, we have put together a few ideas of things to do.
Outdoor Summer Movies
Throughout San Diego County, parks are providing a free family-friendly movie night. Some of the movies include Frozen, Sandlot, and Monsters University. The movies start 15 minutes before dusk, so come early to get a good seat. Bring comfortable seating, a blanket, and some snacks for the kids. Enjoy an economically-friendly evening with your kids! Find more information at here.
Sea Days
Birch Aquarium offers a hands-on SEA day where the kids can learn about different sea mammals and their adaptations. Visit Birch Aquarium for more details and more events. SEA days are included in admissions cost, which ranges from $12.50- $17 depending on the age of your child and your ticket cost.
Guided Adventure Walks
Every Saturday from 9:30- 11:00 at Missions Trail Regional Park, you and your kids can enjoy a guided adventure walk to learn about nature! Walks are free and open to the public. No reservations are needed. The only thing you need is sturdy shoes and water for the kids. Visit Missions Trails Regional Park for more information.
Superhero Snapshot
Get a photo of your kids striking a pose at the New Children's Museum. The New Children's Museum provides activities and programs for you and your child that will ensure there is never a dull moment on your family weekend. Their current exhibits are Feast and TRASH. Do not let the learning stop on the weekend! Contact and visit The New Children's Museum for more information today.
If none of these seem like a good fit for you and your family, find more information on what is going on in San Diego by visiting the Red Tricycle today.
Men's Legal Can Help You With Custody Issues
If you are in the process of a child custody battle or think that you may be in the near future, contact Men's Legal Center today for an initial consultation. Do not waste any time when it comes to building a case and fighting for your rights. Men's Legal Center has trained and experienced attorneys who are equipped to fight for your specific case, no matter how complicated it may seem. You owe it to yourself and your children to stand up for your rights as a father, and Men's Legal Center can help.