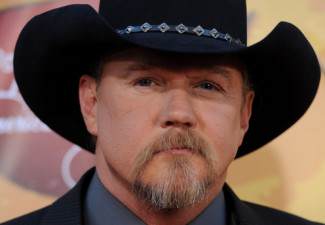 Popular country music singer Trace Adkins is facing a divorce suit filed by his wife of 16 years, Rhonda. Filing in a Tennessee court, the wife entered a petition that simply stated "irreconcilable differences," according to recent reports.
Adkins, 52, has three daughters with his current wife as well as two other daughters with his former wife. Rhonda is asking for custody of their three children and for child support.
The proposed divorce is not a complete surprise as Adkins was admitted to an alcohol rehab facility in January after he allegedly became involved in a brawl on the Norweigan cruise ship Pearl. He left treatment in February to be with his father, who was suffering from a terminal illness. He returned after his father's death to complete the treatment.
This was not the first time the singer had been treated for alcohol abuse. He attended rehab in 2002, but has allegedly been sober since that time. However, at some point he must have started drinking again, because the January cruise episode sent him back to rehab.
Bad Behavior = Less Rights?
While there is no legal correlation between the bad behavior of a parent and the curtailment of that parent's rights with regard to children, practically speaking there is always a connection. Judges must always consider the best interests of the children in awarding custody as well as making a child support order. Therefore, if one parent has a drug or alcohol problem, it is very unlikely that the judge will award custody to that parent.
Of course, having a drug or alcohol problem may also mean that the parent has little money with which to pay child support. This can lead to problems if the issue is not addressed adequately by legal counsel. In some cases, judges are willing to forego child support for a brief period of time while the parent seeks treatment. In other cases, the judge will simply order the support to be paid no matter what the circumstances.
The Men's Legal Center in San Diego has helped parents who are going through traumatic and difficult situations protect their rights. Contact them today for more information.