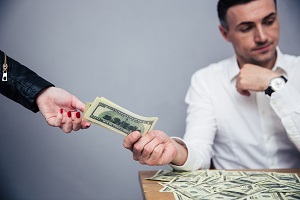 Richard Williams, father of tennis greats Serena and Venus Williams, is divorcing his wife, Lakeisha, of seven (7) years. The two are parents of a five-year-old son. In his divorce filing, Richard is accusing his wife of being an alcoholic, stealing his Social Security checks, and forging his signature to transfer ownership of their vehicles and a home.
We'll talk about it in this issue.
The Case at a Glance
Richard, 75, is a tennis coach credited by many for training his daughters. He divorced his first wife, Oracene, in 2002 amid allegations of domestic abuse. He, however, was never charged. He later married Lakeisha in 2010. The two soon became parents of Dylan, now 5.
In his petition, Richard says that Lakeisha moved out of their Florida home last year for "a new person" he suspects of having "serious criminal and felony charges" and possibly being a danger to Dylan.
Richard also accuses Lakeisha of transferring ownership of one of his homes to her and then taking out a $152,000 mortgage on it by forging his signature. He also says she transferred ownership of several cars to herself, cashed a few of his Social Security checks and withdrew money from bank accounts they held jointly as well as a few he owned alone.
What does California law say about divorcing an alcoholic?
If children are involved, a court can require that any visitation or custodial time with the child be supervised (by a professional supervisor or responsible person) until the parent has shown he/she has addressed the problem and is not a danger to the child. The court can also require the parent to take part in drug and alcohol testing.
In only extreme cases will the court order that there be no contact between the parent and the child.
Can my spouse transfer jointly owned vehicles, house and money into their name?
Here in California, we have community property laws. Unless you and your spouse have a different agreement, all property – in or out of California – acquired during the marriage is community property.
Both of you have the legal right to manage that property for the good of the family, but neither of you can legally sell or lease that property without the written consent of the other.
Make sure your rights and your property are protected; Call The Men's Legal Center in San Diego
Even though the legal proceedings are happening in another state, we'll keep an eye on the results of Richard Williams's divorce case.
If you suspect your spouse of substance abuse or mismanaging the marital assets, you need an experienced divorce lawyer on your side.
Get in touch with us here at The Men's Legal Center. Our number is (619) 234-3838 or you can reach us via email.