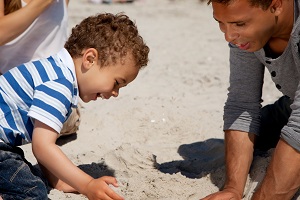 For divorced fathers with joint custody, visitation is – or should be – a cherished time. From seeing your former spouse or partner during pick-up and drop-off, to catching up on what's going on in your child's life, there are a few steps you can take to make sure you're maximizing this special time.
In this issue, we'll share a few.
Getting The Most Out of Visitation
1. Make sure you're on time.Whether you're picking up or dropping off your kids, being late is a quick way to cause trouble. Like you, your former spouse or partner most likely has plans, and there's a good chance that being late will cause irritation. The risk of arguments – especially in front of the children – simply isn't worth it.
2. Stick to the schedule. The guidelines to the visitation schedule agreed to by you and your ex, and legalized by the court serves as a calendar of sorts for all parties to observe. Even holidays, often a point of contention for some families of divorce, are covered by the schedule. If either of you continuously makes changes, it's time to revise the schedule.
3. Your children are the top priority; shut everything else out. The limited time with your child will fly by. Listen to what they tell you. It can take effort, for example, to reinforce your child's self-worth if they are being bullied or something else is going on in their lives. Listen to every word your child says, and respond in a way to let him or her know you're listening and are available to them.
You can do this by:
• praising them more rather than criticizing;
• not comparing them to other children;
• make sure they know their good points and strengths; and
• not letting special occasions slip by unnoticed.
4. Make this a true bonding time. Whether it's going to a ballgame, going on a hike, catching a movie or just hanging out by the TV, ditch the cell phone, tablet and other electronics and focus on being in each other's company.
Facing Divorce in San Diego? Call The Men's Legal Center
Being a dad is a huge responsibility; one that should be relished. If you're a man facing divorce, we urge you to get in touch with us here at the Men's Legal Center. Our sole purpose is to make sure men have the resources and knowledge they need for the best possible outcome in family court.
You can reach us at 619-234-3838 or via email.