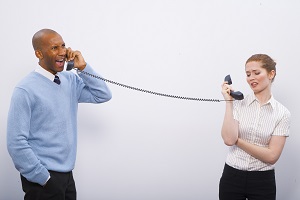 Effective communication with your ex can be trying, but if you're in a co-parenting situation, it's essential. Even though your role as spouses will dissolve upon the signing of the divorce papers, the roles of mother and father will continue for the rest of your lives.
We've talked before about what to do if your ex makes co-parenting difficult. In this article, however, we'll focus specifically on the communication aspect of the relationship, and share tips for how you can continue to communicate effectively with your children's mother in your post-divorce life.
Tips for Communicating Effectively With Your Former Spouse
Keep your children at the forefront.
Before calling or speaking with your ex, take a breath and remind yourself to keep the focus of the conversation on your children.
If there is an issue, focus on it rather than the person at fault.
No one likes to be accused, so rather than placing blame on someone specifically, talk instead about how you feel about a particular situation. Calling upon your ex's sense of empathy and reason rather than focusing on blame will likely result in far more satisfying results for all concerned.
Do not restrict your former spouse from communicating with the children.
Unless there's a court order specifically instructing otherwise, you should take reasonable steps to ensure your ex can see or speak with the children when asked. It's never a good idea to use children as pawns in a divorce.
Empathize with your ex.
We all go through difficult times, so it's important to cut your ex a bit of slack when the difficult times come. Looking at things from your ex's perspective will make co-parenting much easier for everyone involved.
For expert advice from a men's divorce lawyer in San Diego, call the Men's Legal Center
If you're a man facing divorce, we urge you to get in touch with us here at the Men's Legal Center. Our sole purpose is to make sure men have the resources and knowledge they need for the best possible outcome in family court.
You can reach us at 619-234-3838 or via email.