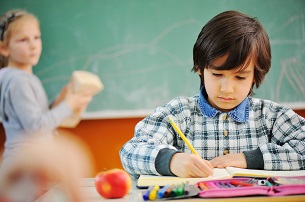 For most students, the school year in San Diego kicks off on August 27. If you're a parent, you and your children still have a few weeks of the summer break to enjoy, but if you haven't noticed them yet, you soon will see the back-to-school commercials on TV and online.
In this issue, we'll share a few tips for divorced dads so that the transition to another school year can go as smoothly as possible.
Back-to-School Tips for Divorced Dads
Share the costs of back-to-school supplies with your child's mother.
Regardless of the custody and spousal support situation, adding up the costs for backpacks, notebooks, accessories for required electronics, etc. can quickly turn into a small fortune. Because children prefer it when their parents get along, suggest with your ex the idea of divvying up the costs.
Make sure you know how to access the school calendar.
Most schools publish a calendar that's updated before and during the academic year, so make a commitment to checking it regularly. Also, become a fan of your school's social media outlets, as most are posting important announcements and details about upcoming events online.
Inform your child's teacher about your family situation.
Make every effort to attend any opening night events as well as opportunities to meet your child's teacher. You don't have to go into detail about the divorce, but it is helpful for the teacher to know the dynamics of your child's home life. This can nudge the teacher to be on the lookout for any problems or signs of emotional impact.
Schedule a recurring talk with your ex to discuss your child's progress at school.
By doing this, you can ensure that no school project or assignment falls through the cracks. Good suggestions include an email or phone call on a specific day of the week.
If you're a man facing divorce, call the San Diego men's divorce lawyers at the Men's Legal Center.

Our sole purpose is to make sure men have the resources and knowledge they need for the best possible outcome in family court.
You can reach us at 619-234-3838 or via email.