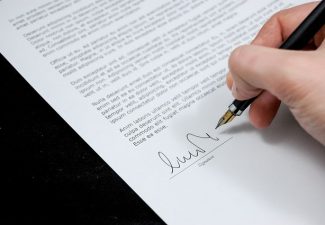 According to reports, the Brangelina celebrity couple have an ironclad prenuptial agreement that will make dividing their collective $400 million fortune go rather smoothly.
Contrary to popular opinion, though, prenups aren't only for the super wealthy. In fact, if you're married and don't have a prenup, you can still take action to protect yourself by developing a postnuptial agreement. In this article, we'll tell you why and how.
Postnuptial Agreements at a Glance
Simply put, a postnuptial agreement is a contract that is signed after a couple is married or has entered into a civil union. Just like a prenup, the postnup can spell out instructions for possible conflicts over finances, property, probate matters, etc.
The Growing Popularity of the Postnup
Just a few years ago, the American Academy of Matrimonial Lawyers (AAML) reported that 51% of its members had seen an increase in postnuptial agreements.
Ken Altshuler, president of AAML, said "Postnuptial agreements are becoming a valuable tool to avoid trouble spots from escalating into serious conflicts that can jeopardize a marriage. Often one of the most common motivators for these agreements is a dramatic change in the financial status of one or both partners during the marriage."
What Must Be Included in a Postnup?
While each state has its own guidelines for postnuptial agreements, they generally must be:
Written (oral agreements are no good)
Signed by both spouses
Fair to both sides
Here in California, spouses entering into a postnup must provide the other with full disclosure of all information relating to the items and issues in the agreement.
Is a Postnup for You?
Bringing up finances can be on the tricky side but just about all of us have some property that is worth protecting.
If you have children from a previous marriage, a postnup is a great way to ensure that some of your assets will go to them.
If you and your spouse are going through a rough stretch, signing a postnup with terms that are favorable to your spouse can show that you're serious about wanting to repair the marriage.
Writing a Postnup is Not a DIY Job; Call The Men's Legal Center for Help
Prenuptial and postnuptial agreements have a host of limitations and loopholes, and there's really no way to predict how a court may rule on any such agreements. That's why it's crucial to have professional and skilled legal help to guide you through the process.
Get in touch with us here at The Men's Legal Center by calling 619-234-3838 or send an email.